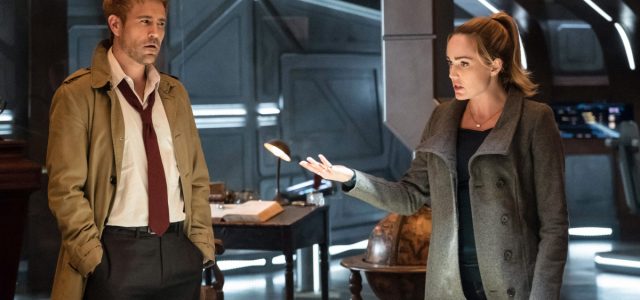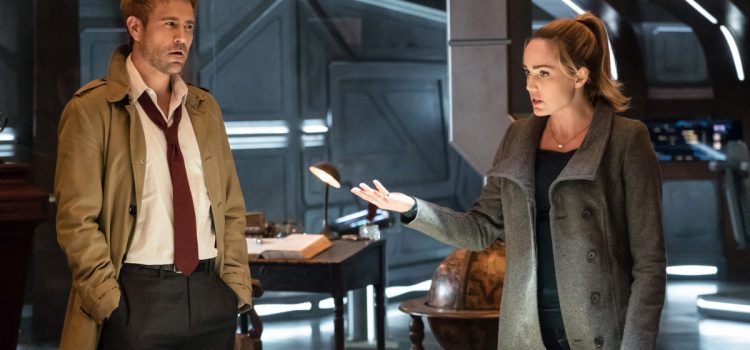 Review of the DC's Legends of Tomorrow episode "Daddy Darhkest" featuring John Constantine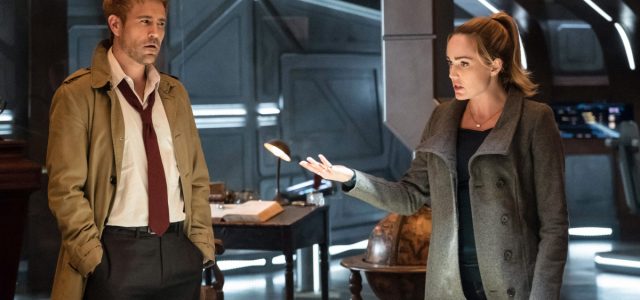 John Constantine returns to live-action television with tonight's episode of DC's Legends of Tomorrow, airing in the show's new timeslot of Mondays at 8PM, where the series will be replacing Supergirl for a few weeks.
If you haven't seen the first season of Constantine's own show — and you really have no excuse, because it's available on Blu-ray as well as being able to stream on the CW Seed app — it was a sadly underrated but wonderful adaptation of the DC Comics character originally created in Swamp Thing comic books. The "Danse Voudou" episode introducing Jim Corrigan, who fans of the comics know as the Spectre is a personal favorite, though there's a lot to like in the entire 13-episode season. Sadly, Constantine didn't do what NBC wanted it to do in the ratings, and that seemed to be the end. Except it wasn't.
Matt Ryan as John Constantine returned for the Arrow episode "Haunted" in which he helped Sara Lance find her soul. This connection will come into play in tonight's Legends of Tomorrow as the two characters reunite. (Say, can he find the real Laurel Lance's soul and put it into Black Siren? Asking for a friend.) There's a Constantine animated series coming to CW Seed as well, also featuring Matt Ryan in the role.
But let's not get ahead of ourselves.
Tonight's episode of Legends starts off, frankly, like an episode of Constantine. You hear the familiar Constantine theme music. It's spooky. There's an asylum with a creepy kid. An exorcism. And all of the feelings of watching Constantine's old show returned. As a viewer, this made me very happy….
That happiness grew when I saw that this episode did a Constantine-bonused version of the familiar Legends of Tomorrow title card. Hellblazers will not be disappointed!
This is a very supernatural episode of DC's Legends of Tomorrow as one might expect. Seeing the Legends react to Constantine is fun. As per usual, Dominic Purcell gets some of the best moments just by grunting. Of course, other matters directly related to the show and not Constantine are present — there's more movement with the Kuasa story, Leo Snart makes an important choice, and Sara has more fun interaction with Ava Sharpe. There's also fun to be had with the whole "no, that's another British guy in a trenchcoat" and the notion that Leo has a significant other named Ray who is not Mr. Palmer.
For Constantine fans, this episode is an absolute must, but the episode is also indicative of what many I know have been saying: DC's Legends of Tomorrow has become the most consistent and most fun Arrowverse series on The CW. If you're not a regular viewer, don't be afraid: It's easy to follow. If anything, the non-regular viewer might leave this episode very curious about what is happening next, and it's a good jumping on point.
Finally, there's the question of "would I like to see John Constantine as a regular part of this show?" And here's the answer: No. I love Matt Ryan. I love John Constantine. I do love what he brought to the Legends this week. But really? Matt Ryan as John Constantine deserves his own show and supporting cast. One thing that I loved about the short-lived Constantine show is that the people he traveled with seemed like Doctor Who companions. There was the girl from the pilot whose name I have long since forgotten, but then Zed came along. (I'd love to see Zed again, and Chas, too). Maybe a time would come when Constantine would travel with new people. That's cool, and a great concept. So, what would I be calling for?
Metropolis and Titans are coming to the DC streaming service. Maybe we need and should get a Constantine Season 2 there, since The CW already has 5 DC Comics-based shows?
Whatever happens, I'd give up my soul to see more. Tonight's Legends of Tomorrow is in my top three for favorite Arrowverse episodes this season, and John Constantine's presence is surely a great reason why.
See some of our interviews with Legends cast members about Constantine's appearance below!