Beebo is featured on the Legends of Tomorrow Comic-Con bag for 2018.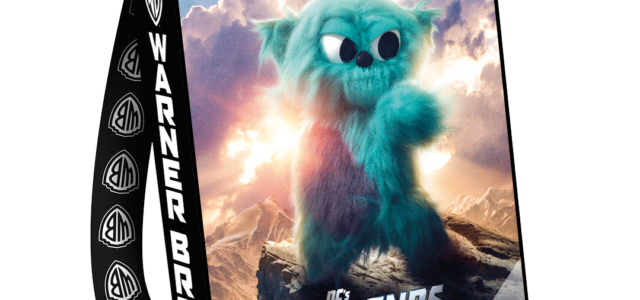 The legendary Beebo made his first televised appearance in the DC's Legends of Tomorrow Season 3 episode "Beebo, The God of War" and it turns out he was exactly what the Legends needed to defeat Mallus in the season finale. Now, for Comic-Con 2018, Warner Bros. Television is making Beebo one of the selections for this year's Legends of Tomorrow Comic-Con bag.
We've gotta have it. See all of this year's Comic-Con bags here!
Here are details of the Legends of Tomorrow panel which is happening on Saturday, July 21. Some Season 4 spoilers are within!
5:00–5:45 p.m. DC's Legends of Tomorrow Special Video Presentation and Q&A — After defeating Mallus by cuddling him to death with a giant stuffed animal named Beebo, the Legends were ready to ease off the gas. That was until Constantine arrived to inform them that, in solving one major problem, they have created another, much larger one. When the Legends let time crumble in order to release and defeat Mallus, the barrier between worlds softened. History is now infected with "Fugitives" – magical creatures from myths, fairytales, and legends. Having been expelled throughout time by people like Constantine, these Fugitives are now returning to our world in droves and making a real mess of things. So when all hell breaks loose, who ya gonna call? That's right, the Legends! Join the cast and creators of The CW's zaniest Super Hero series – stars Caity Lotz, Brandon Routh, Dominic Purcell, Nick Zano, Maisie Richardson-Sellers, Tala Ashe, Matt Ryan, Jes Macallan, Courtney Ford, showrunner Phil Klemmer and producer Keto Shimizu – at their annual Comic-Con panel for an in-person look at what makes this time-traveling crew tick.
Craig Byrne
Craig Byrne has been writing about TV on the internet since 1995. He is also the author of several published books, including Smallville: The Visual Guide and the show's Official Companions for Seasons 4-7. In addition to covering Legends of Tomorrow, you can find Craig at KSiteTV, GreenArrowTV, KryptonSite, and FlashTVNews.