Review of DC's Legends of Tomorrow: The Complete Third Season Blu-ray collection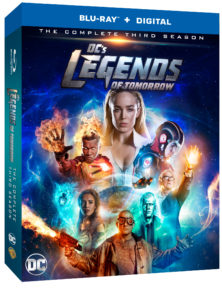 The third season of DC's Legends of Tomorrow hits Blu-ray today with a 3-DVD set containing all 18 episodes of DC's Legends of Tomorrow Season 3 plus bonus episodes of The Flash, Arrow, and Supergirl from this year's "Crisis on Earth-X" crossover. The set also includes a number of extras.
We were provided with a copy of the set to review; here's what we thought!
The Episodes: Yes, the rumors are true. While DC's Legends of Tomorrow didn't have the most glorious first season, the show has consistently gotten better, and this last TV season, it was arguably the best of the four "Arrowverse" series on The CW. Why is this? A big reason might be that the series was not afraid to have fun with the absurd situations the characters get themselves into. Whether it's Ray Palmer with a baby Dominator or a giant blue stuffed savior named Beebo, Legends did not hold back. Even a character like Damien Darhk who may have seemed a bit ridiculous on Arrow fits in perfectly here.
Season 3 of Legends also introduced some new characters that quickly became fan favorites, like Jes Macallan's Ava Sharpe and Tala Ashe's Zari from the future. There are plot threads from the Vixen animated series that were picked up on, and some characters came and went. While we'll miss some of those who departed, it was fun to see characters like John Constantine and Wally West upon the Waverider, with the latter put to much better use than The Flash ever had him.
It's almost surprising that Legends of Tomorrow gets shorter seasons than the other Arrowverse shows, as it seems to be the most open for story potential. The cast rotates but by this point, they're all people that you want to know.
So, yes, there are many episodes worth watching here.
The Extras: In addition to the crossover episodes, DC's Legends of Tomorrow: The Complete Third Season includes the "Crisis on Earth-X" and Comic-Con featurettes which can be found on the other superhero discs. There's a fun feature called "The Tome Calibrators: Legends Assemble!" that features a look at many adventures of Season 3 with producer interviews, and since Legends wrapped earlier than most other shows, it goes right through to the finale. There's also a "Post Production Theater" featurette which is so much fun, where among other things we get to see Batman vs. Beebo. (Really!)
There are deleted scenes, which often feature some quieter moments but nice moments between the characters, and there's a gag reel, where again, it shows the Legends cast might possibly have the most fun of any group up there in Vancouver.
Packaging & Design: DC's Legends of Tomorrow: The Complete Third Season has some nice cover artwork, but it's missing Zari and Kid Flash, which makes me sad. I will just assume the blue glow around everyone is meant to represent Beebo, who is also missing but is clearly the star of the series.
Picture & Sound: The show looks and sounds amazing on Blu-ray.
Is It Worth It? Yes! As mentioned before, Legends has become so much fun, and this is something perfect to have on when you need a good pick-me-up.
DC's Legends of Tomorrow Season 3 is available TODAY. Order yours from Amazon.com and support this website!