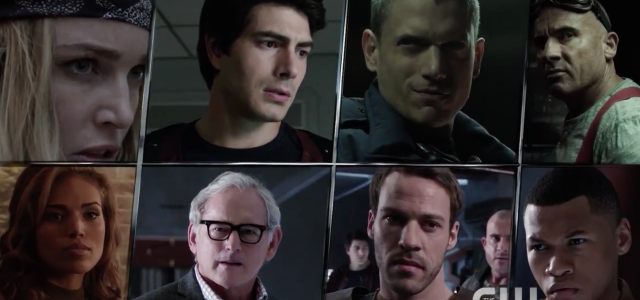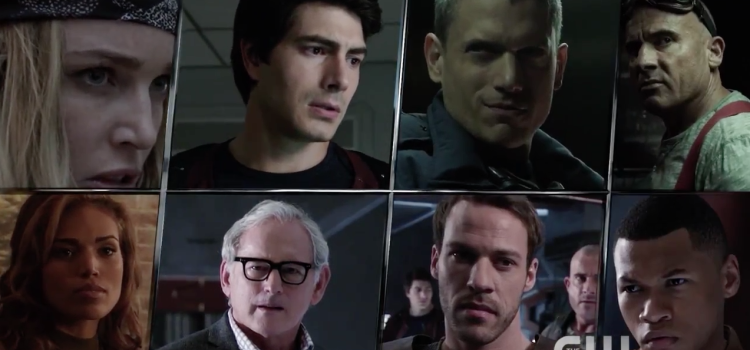 Something big happened on Legends of Tomorrow tonight, and we spoke with the actor and the executive producer involved to find out what might...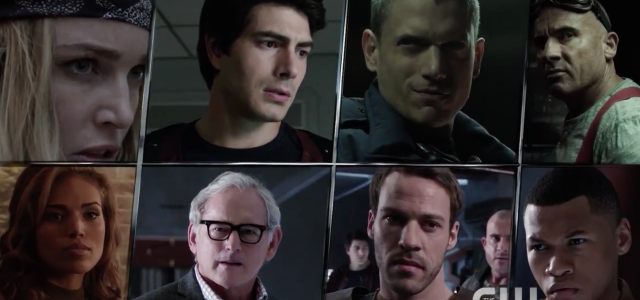 The Legends of Tomorrow lost a member tonight — not a hoax, not an imaginary story… and on this show, it seems as though death sticks. Though how much will it stick in a show with reincarnation?
In any event — SPOILER WARNING if you haven't seen Legends of Tomorrow Episode 2 yet, you might want to just stop here — we saw that in episode 2, Hawkman was taken down by Vandal Savage, and as a result, the team is now down to one Hawk.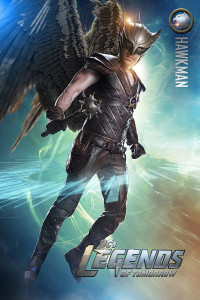 We spoke with Falk Hentschel (Carter Hall) about what happened in tonight's show, and additionally, EP Phil Klemmer gave us some insights as to what this all means.
DCLEGENDSTV's CRAIG BYRNE: When you booked the role, did you know your character was getting killed in Episode 2?
FALK HENTSCHEL: Yes, I did. I was aware of that. I knew that there was a death in Episode 2, and I was told "but there's all these ways of continuing to play with the character." And I thought it was lovely. I think I was like "oh, that's cool!" I think it's cool because we're so used to a character like Hawkman being safe — "oh, nothing's gonna happen to him, he's Hawkman" — but I think that was kind of cool, and I'm interested to see what the fans will say. Will they scream for more? We'll see.
With reincarnation being a major part of Carter's life, could we be seeing you beyond Episode 2?
Yes! I think there's all kinds of opportunity. I think there's reincarnation; there's time travel. At the least, there are the flashbacks. I think we've established Kendra getting her memories back. So, I think there's a lot of opportunity. Obviously, I can't say yes or no. I have to say, I really like that about this, too. When I heard that I was going to die on the second one, I was like "that's great." Because I think we're so used to have our regulars or people that we know being safe, that I was like "Oh. Okay, you're Game of Thrones-ing that, a little bit." I think it's exciting.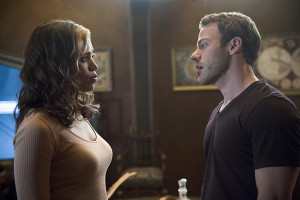 Could it be possible for Kendra to meet a past incarnation of Carter, where she's the one who remembers and he doesn't?
Maybe, yeah. The producers know more about that than I do. I just know that there is plenty of opportunity for that.
If the producers were to call you up and say "would you like to appear next week," would you be game for it?
Yeah! Here's the thing: I had a blast. I want to go back and see my friends. It's always a question of schedule… so many things go into making a show or a film. In the end, you never know if it works out. But as you can tell, I really enjoy everybody.
You can read more about Falk Hentschel's Legends experience at KSiteTV. And now, the spotlight turns to Executive Producer Phil Klemmer, who makes it sound as though we'll be seeing Hawkman again at some point, in some way: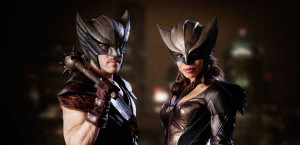 How dead is Hawkman?
That Hawkman is absolutely 100% dead.
Considering he died in 1975, does he reincarnate in 1975 also?
No. He does not reincarnate until she dies as well. We had to come up with a conceit so they could roughly be the same age, and their fates are intertwined. So we have this sort of bittersweet notion that Kendra will never have the chance to love her immortal beloved until she dies. She has to fail at taking down Savage in order to meet Carter. She can have memories of Carter, which we'll explore their past lives together in flashback stories, and we still like the idea of her encountering a Hawkman from a previous life.
So it could go the other way around, where she's trying to convince him of who he is?
Yes. Absolutely. And then… you know, there is the idea that she could finally, for the first time in 4000 years, choose whom she wants to love, as opposed to having this curse determine it for her. So, there is a big wrestling match between free will and romantic destiny for her.
Intriguing, eh?
Come talk about tonight's second episode of DC's Legends of Tomorrow on our forum for the show!