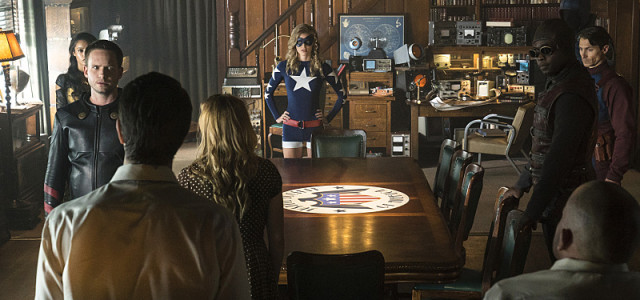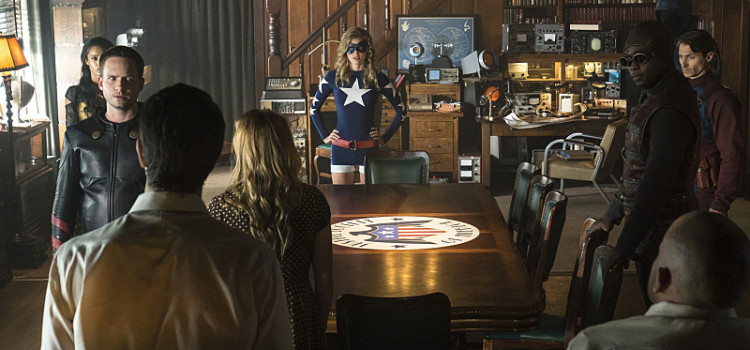 Craig Byrne reviews tonight's episode of DC's Legends of Tomorrow, titled "The Justice Society of America."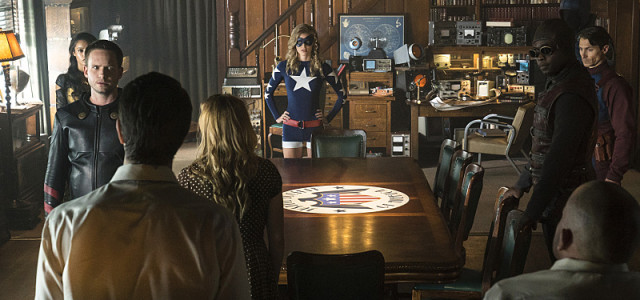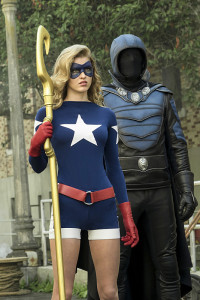 The Legends meet some legends on tonight's episode of DC's Legends of Tomorrow, which is titled "The Justice Society of America." I bet you can't guess which famous team from DC Comics makes an appearance…
All kidding aside, there's a bit to like in tonight's show. I'm still liking the team better without Rip or the Hawks (with no offense to the actors who played them). I love that this sort of "Legion of Doom" includes Matt Letscher's Eobard Thawne. Nick Zano continues to be an excellent addition to the series, and Caity Lotz's White Canary is developing new layers with each succeeding episode. The members of the team who have stuck around, it feels like the writers nurtured them and thought about them over the summer, providing a lot more clarity here. "The Justice Society of America" even gives Victor Garber an excuse to sing, dropping a great Back to the Future reference while he's at it.
As a fan of the comics, I'm a little mixed when it comes to the JSA that we see in the episode, but I like the actors they got for them. Sarah Grey's Stargirl is *fantastic* and a definite upgrade from the one we saw in Smallville's "Absolute Justice;" at the same time, though, Courtney Whitmore is a character I always associated with the 21st century, and the look of Ms. Grey is very 2016. I had similar feelings about Maisie Richardson-Sellers' Vixen; I understand she's from a different era, but she doesn't look it… she even has the "All-New Wolverine" costume that her descendant wore on Arrow. Both of those things took me out of it a little bit. I'm sure there were also character limitations; it's just a shame that we couldn't have had, say, Ted Knight/Starman in 1942 with us meeting Courtney in the present day as his successor, with a Will Payton Starman flying in the skies in 1988 and Jack Knight doing his thing in 1997.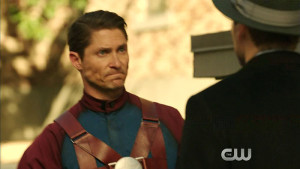 Matthew MacCaull, who plays Nate Heywood's ancestor Commander Steel, totally has the 1940s look down; perhaps it's the hair. I admit I was expecting a suit that was a little more "Captain America" for him, as the original comic book Steel had, but I'll take what I can get. It's nice to see Patrick J. Adams back as Hourman, since a lot of us were probably wondering where he went to after last season's Legends finale.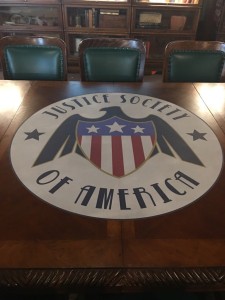 I loved the production design of the JSA's headquarters; I believe it was a practical location. The "Justice Society of America" logo on a table was a really nice touch. Legends of Tomorrow EP Marc Guggenheim did a good job on the JSA comic book a few years back; he clearly has an affinity for the characters and I could feel that love for them in the show.
Another thing this episode does well is that there's a good amount of action and danger, but even more importantly, there are some important interpersonal interactions. Stein gets some great moments this week, but also, I feel that Sara is starting to become almost like a guardian angel over the rest of her team. She worries about people, and has come so far from the "asssassin" she is supposed to be. Sara's interactions with Nate are a particular highlight; I'm also very interested in other interactions we see like Ray and Vixen as well as Jax and Stargirl. I'm not necessarily suggesting anything romantic; I just am curious to see what develops as far as character interactions; it already feels more organic than Season 1's Ray/Kendra thing.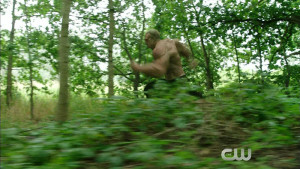 One thing that doesn't work so well is a sequence where a character is pretty much Hulked out — I feel like it's a DC character I should know, but I'm blanking. Normally, these shows have the absolute best visual effects, but on the screener we saw, it looked like some 1990s Duke Nukem video game action, and it took me out of it. But what can you do on a TV budget? I guess we have just gotten spoiled by the effects on the other shows, including in episodes of Legends.
All in all, if Season 2 of Legends of Tomorrow is going to hook you, tonight's episode is probably one to check out. 8PM on The CW. Official photos can be found here.